To begin online registration, Click below.
Select the county in which the vehicle is registered.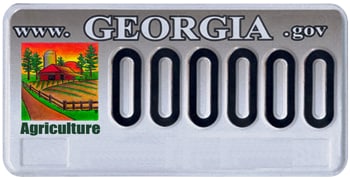 How can I renew my vehicle's license plate on-line?
If you live in a participating county and you have received a renewal notice indicating on-line renewal is available in your county, you may be able to renew your Georgia license plate(s) on-line.
A $4.95 convenience fee is charged for each credit or debit card transaction totaling $1,000 or less. For credit or debit card transactions greater than $1,000, the convenience fee is 2.75% of the total amount due. For electronic check transactions, a $3 convenience fee is due for each transaction totaling $10,000 or less. For electronic check transactions greater than $10,000, a $15 convenience fee is charged per transaction.
The State, the Department of Revenue and the counties do not receive any of the convenience fee.
This convenience fee is in addition to the other fees and taxes due at the time of renewal. Your renewal notice reflects the total fees due, excluding the convenience fee.
If you have not received a renewal notice by the first week of your registration period or you have received an uncalculated renewal notice, contact your County Tag Office immediately for instructions. Click here for your registration period in your county. You cannot use on-line renewal if your renewal notice does not reflect your correct address.
Requirements for On-line Renewal
Live in a participating county;

Your renewal notice has a RIN, a unique number printed on renewal notices for customers living in counties participating in the on-line renewal program.

Pay all registration fees, taxes and the convenience fee by debit or credit card or electronic check. You will know the actual cost before you complete the transaction. You may cancel at any time before the transaction is complete.
After a successful on-line registration, your new registration certificate and renewal decal will be mailed to you within five (5) business days.
If you meet all requirements shown above, you may start the renewal process by clicking here . If you have additional questions, please contact your County Tag Office .